The Best Painter in Windsor
When it's time to repaint the interior or exterior of your home or business, contact Colortrends for the best painting services in Windsor, Colorado. At Colortrends, we work hard to exceed all our customers' expectations. From repainting and restoring historical buildings to painting and touching up interior or exterior home spaces, we go the extra mile every time. Make us your first choice when selecting a Painting Company Serving Windsor CO.
A Painting Company Serving Windsor CO
We exceed our customers' expectations by expecting the best out of our Windsor painting contractors. Our workers are highly-trained and eager to please their customers every time they go out on a job.
Our painting and customer service processes are fast and easy. You can call us for a free estimate and inspection, we'll get a crew to your home or office to paint your exterior or interior space, and before you can take in a sunset at Boardwalk Park, your job will be done.
Our workers aren't magicians, but they are extremely skilled and experienced painters who know how to paint any space quickly and efficiently. We get our jobs done below budget and on time every time.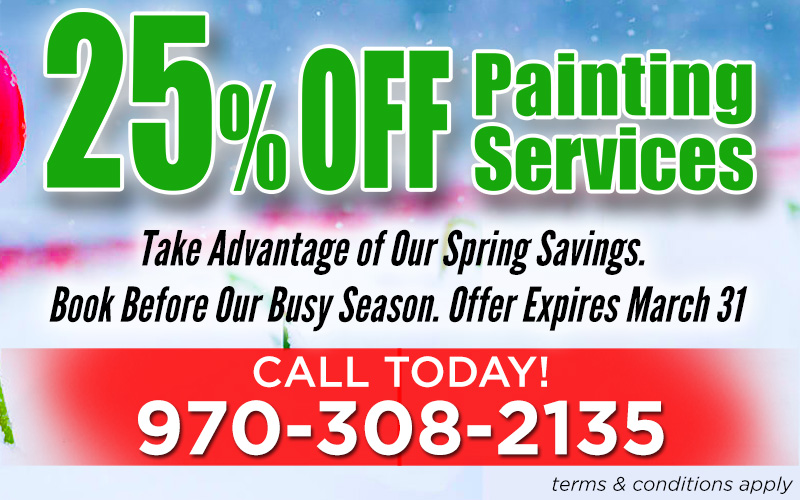 Windsor Residents Are Talking!
See why homeowners and businesses in Windsor, CO think Colortrends is THE BEST Painting Contractor in Northern Colorado!
Painting With Respect and Integrity
The top priority for Colortrends is to earn our customers' trust. It's the long-term relationships that we build with our customers and our community that keep us in business. That's why we commit to every job as if it's our own home. Our goal has always been to provide 100% customer satisfaction every time.
After twenty years of high customer satisfaction, our workers continue to deliver the best painting jobs in Windsor, backed up by our guarantee of quality and speed. We use the highest-quality paint products for all of our projects and stake our reputation on each and every job we take on.
When we provide you with an estimate, you can stand by that figure. We conduct each painting job in Windsor with care and respect, using the best workers in the area to produce beautiful paint jobs every time.
Our Exclusive Warranty For Your Windsor, CO Painting Project
Our reputation is spreading throughout Windsor and the Fort Collins area. Customers who have worked with us before know when they need a Windsor painting contractor, they can call Colortrends and get it done. The long-term relationships we have built over the years are the lifeblood of our business. When we take on a new customer, we always strive to surpass expectations, stick to our word, and offer excellent, efficient, fast service. We want to work with you to ensure that your needs are met, no matter what specific needs your exterior or interior space has.
Most Windsor painting contractors can't back up their service with the reputation that Colortends has. We have exceeded customer expectations on all of our projects around town. Everything we do for our customers is with their best interests in mind. We protect your home or business and clean up after ourselves. That is why Colortrends offers a second-to-none paint and project warranty on each and every single one of our painting jobs in Windsor, CO.
Call Colortrends Today
For the best painting in Windsor, call Colortrends today. We answer all of our calls, and if our phone lines are tied up, we respond promptly to answer your questions. Call (970) 308-2135 for a free estimate today.
Contact Colortrends Painting by Email