Trusted Painting Contractor Serving Wellington, CO
At Colortrends, we are committed to providing the best painting services in Wellington, Colorado. We stand by our work and our word every step of the way whenever we take a painting job for one of our neighbors. Founded in Fort Collins almost twenty years ago, Colortrends has long been in the business of exceeding our customers' expectations. We are committed to complete customer satisfaction. If you need a quality, reliable, efficient Wellington CO painting contractor, you can count on Colortrends.
By the time you're done strolling through the Wellington Community Park or mountain biking on one of the many trails just north of town, you can come back to a newly-painted house. How do we complete our painting jobs in Wellington so fast? It's all about efficiency.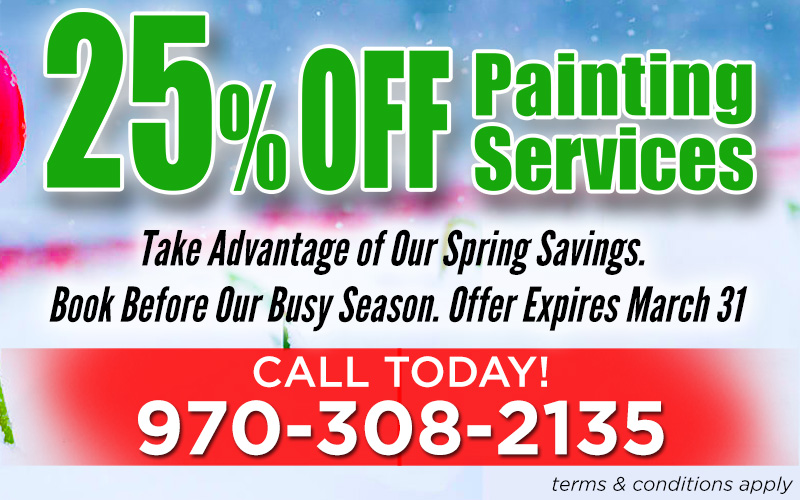 Efficient Panting From A Wellington CO Painting Contractor
What makes a paint job go well? Efficiency in motion and efficiency in work. Anyone can slather a wall with paint using a roller or sprayer, but truly skilled professionals can do this with very little wasted time, which can add up on home or commercial paint jobs. Colortrends is ready for any challenge our customers give us. We work closely with all of our clients to ensure that their needs are being met. Part of committing to full customer satisfaction is understanding the differences between each customer's needs. Our workers and supervisors always meet with our clients to determine what exactly they need and how we can deliver the best results possible to them in as little time as possible without cutting corners. Each Colortrends painting professional is trained not only in proper exterior and interior painting safety, they are also trained in how to properly clean up and respect the property they work on. They are trained in efficiency of motion, so there's no wasted energy or steps in the painting process.
Our Positive Reputation Says It All
It's one thing to write or say '100% customer satisfaction,' and it's quite another to follow through on that pledge. Colortrends backs up the work performed by its highly-skilled Wellington painting contractors with its five-year painting job warranty, which guarantees durability and protection you can count on. Whether you need a few rooms painted in your business or home, or you need your house's exterior repainted, Colortrends makes sure you're completely satisfied when our work is done.
Many of our clients in the Fort Collins area know our work well and often recommend us to their friends and family. We thrive on these long-term relationships that we build from trust in our process and products and our prominence as the best place to get high-quality painting in Wellington. We're always trying to exceed the already-high expectations our community places on us. From the contact phase to the final cleanup when the job's done, Colortrends is with you every step of the way to ensure your needs are met and your expectations exceeded.
A Wellington CO Painting Contractor Committed To You
Call us today at (970) 308-2135 for a free estimate or ask us any questions you have. Our customer service representatives are standing by to provide fast responses and answer your questions.
Find Out What Our Wellington Painting Customers Are Saying!
See why Wellington, CO homeowners and businesses think Colortrends is THE BEST Painting Contractor in Northern Colorado!
Contact Colortrends Painting by Email