Tips To Pick The Perfect Paint For Any Room
Breathing new life into an interior space with a fresh coat of paint? Easy. Successfully picking the perfect paint color? Complicated. With so many different shades evoking so many different moods, many people find it virtually impossible to stop that seemingly endless color wheel from spinning round (and round, and round).
Not today. Today, you go into the color selection process armed with nine tips to help you pick the perfect paint color for any room. Consider these suggestions when brainstorming the right hue for your interior walls:
1. Don't Start With Your Paint Color
Counterintuitive, right? Instinctively, you may think you should start with the paint color to check off the biggest action item on your décor to-do list. However, beginning with other features, such as furniture and accent pieces can help narrow down your final paint selection.
2. Pinpoint A Pattern
Take a look around at the items that will adorn your finished room. Do you have a pattern that keeps catching your eye? Use your favorite shades in the design as an inspiration for your walls.
3. Take A Peek In Your Closet
If you're like most people, your wardrobe holds several colors you enjoy looking at and wearing. Why not incorporate them into your décor? Is navy a predominant shade in your closet? Opt for cool blues in the areas you want to relax in or deeper jewel tones in rooms where you want to make an aesthetic statement. Do you gravitate toward bright and bold ensembles? Choose yellows, oranges, or greens to complement your personal style.
4. Transition From Dark To Light
Many designers use a vertical "dark to light" strategy when picking interior wall paint. According to this theory, your room should replicate a natural environment where your floor is the earth, the ceiling is the sky, and your walls are everything in between (aka buildings, trees, etc.) Use your floor color as a baseline for the darkest color in the room. Next, use your ceiling as the lightest color in the space. Choose a color in between the two for your walls to instantly achieve visual symmetry and balance.
5. Up Your Neutral Game
There is truth in what they say: you really can't go wrong with a neutral wall color palette. Creams, whites, and taupes instantly set a soothing mood and can quickly be punched up with accents, wall hangings, and furniture. However, nothing says you have to get stuck in a neutral rut. Go beyond beige and opt for gray in your updated area. Grays are, by far, today's chicest interior neutral. A versatile gray can work in virtually any size room and with any other colors in the space.
6. Use Contrast
Contrast can prove a powerful tool when designing your room. If your space is full of cooler-hued accents, select a rich, warm shade on your walls. Likewise, if you find yourself surrounded by darker upholstery, curtains, and fabrics, you will want to choose a lighter, more soothing paint color. Contrast delivers balance, depth, and instantly boosts overall visual appeal.
7. Take It For A Test Run
As you begin narrowing down your selections, you may find yourself torn between a few options. Or, maybe you've found what you think is the perfect tint, but you're worried it won't wear as well on your walls as it does on the 2x2 sample square. Testers come to the rescue. Paint swatches on various walls in the space so you can see how the color evolves with different natural lighting throughout the day.
Bonus Tip: Speaking of lighting, natural daylight always showcases the paint's most authentic hue. However, some people make the painting mistake of not testing their colors in electric lighting as well. Different bulbs can influence the tone of your walls. For example, fluorescent bulbs can cast a blue tinge throughout the room, while incandescent lighting can make a paint seem more yellow. Be sure to check out your test color at night to see how the shade changes when you turn on the lights.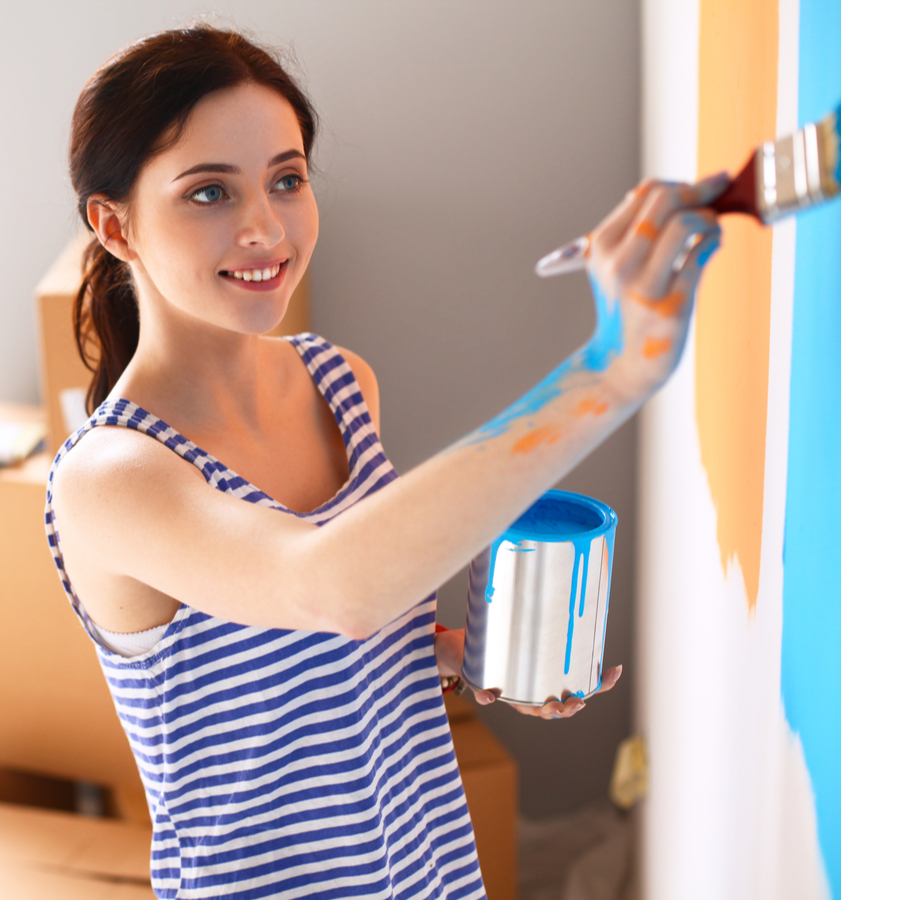 8. Take It For A Test Run (Part Deux)
Testing the paint on your walls is a great place to start. However, you will also want to make sure your selection also works with the other large items in the room. Paint a poster board to create a portable sample. Once it dries, you can hold the board up against furniture, fabrics, and other prominent features to ensure everything works well together.
9. Don't Underestimate Undertones
We've all done it: pinpointed the ultimate interior color, only to get it up on the wall and discover a base tinge that utterly derails our design vision. Never underestimate the power of undertones. To choose your perfect paint color, look at the darkest shade on the strip sample to pinpoint its authentic color base and avoid any unexpected (and unwelcomed) surprises.
Need Help Applying That Perfect Color?
Once you have chosen your perfect color, it's time to tackle the task of getting it up on your walls! If you're interested in a quality paint job that does not take up your time and energy, you have the option of hiring a professional interior painting company. Contact us today to learn how we can help.