Quality Timnath Painting Contractor
For the best exterior or interior painting in Timnath, contact Colortrends. We have the best Timnath painting contractors who know how to efficiently paint the exterior or interior of your home quickly and beautifully. Colortrends has been building trust with our neighbors in Timnath, Fort Collins, Winsor, Berthoud, Wellington, and Loveland since 1998, and our workers know how to paint inside and outside. For the best experience with your next job, choose Colortrends, a painting contractor in Timnath CO.
For years, our business has depended on the long-term relationships we have forged with our community. In a small, agricultural town like Timnath, these relationships are everything. People talk and recommend Colortrends to their friends because we do the best job the right way the first time, saving you money and time. Based in Fort Collins, Colortrends is able to serve the surrounding areas of Timnath, Berthoud, and beyond with our commitment to excellence every time. There is no better Timnath painting contractor than Colortrends. Here's why.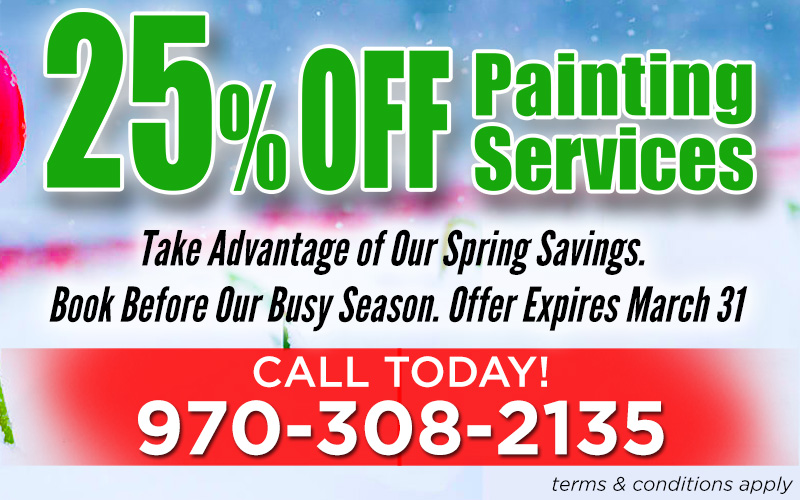 Find Out What Our Timnath Painting Customers Are Saying!
See why Timnath, CO homeowners and businesses think Colortrends is THE BEST Painting Contractor in Northern Colorado!
The Colortrends Painting Process
We train our workers in our standard painting process before they embark on any painting job in Timnath and the surrounding area. We stick to a highly-specific, specialized, step-by-step process with our training and our workers for several reasons. One, all our workers know exactly what is expected of them. Their clean-up and mess prevention methods are uniform across all of our painting worksites in Timnath, creating a standard that all of our customers can expect from a Colortrends Timnath painting contractor. Our painters know how to get the job done right, on time, and under budget without creating a mess or damaging their customers' property.
This process is all so that our customers know exactly what they're getting every time they call Colortrends to paint the interior or exterior of their house.
A Painting Contractor in Timnath With Versatility
Colortrends Timnath painting contractors are always up for a challenge. We paint interiors, exteriors for homes and businesses, and we do historical restorations. Our painters are skilled and highly trained in how to surpass our customers' expectations. No matter your painting needs, we have the experts to get it done. You can take a dip in the Cache la Poudre River and come back to a beautifully painted house after you hire Colortrends to handle your interior or exterior painting job.
Surpassing Your Painting Expectations
Our painters work hard to impress and exceed expectations for those looking for excellent painting in Timnath. The backbone of our business is keeping customer expectations high for our work and then surpassing them with our fast response times, and our quality, efficient work. No matter what your home needs to look its best and get the best protection available from our high-quality paints, you can count on Colortrends to get it done right. Our painters and customer service representatives love to work with our customers to provide the best paint job for their needs.
Call Colortrends at (970) 308-2135 or send us a message on our website to get your free estimate or to ask us questions about your next painting project. We always answer our phones or call back promptly.
Contact Colortrends Painting by Email