Interior and Exterior Painting in Loveland
One of the main principles of Colortrends is to go above and beyond for all of our painting customers in Loveland. Twenty years ago, when Colortrends was founded in Fort Collins, we committed to 100% customer satisfaction for every painting job in Loveland and the surrounding area. Throughout our history, our commitment has earned us the trust of many Loveland residents who have needed their home or business restored with a fresh coat of interior or exterior paint. Make the right choice when deciding on a Loveland Painting Contractor and call the painting professionals at Colortrends.
Colortrends is a prominent Loveland painting contractor because of our commitment to our customers and our commitment to quality work. Not only do our long-term relationships based on results with our clients create the most business for us, the pride in our work is what keeps each Loveland painting contractor on our staff providing all our customers in our community with the best painting services possible.
For exterior and interior home and commercial painting services in Loveland, as well as historical restoration, Colortrends provides the best Loveland painting contractors for our customers every time.
Customers In Loveland LOVE Colortrends!
Residential and Commercial Painting Customers in Loveland have spoken! Click Here to why they think Colortrends is THE BEST Painting Contractor in Larimer County!
Standing Behind Every Painting Project We Do
At Colortrends, we stand by our work every time. Not only do our Loveland painting contractors take immense pride in what they do, we also back up our work with a five-year warranty that guarantees excellent durability and protection you can rely on for your home or business. We make sure that all of your needs are met before we consider a job done.
The work starts with open communication. We provide free estimates, in which our painting experts examine your home and develop an accurate estimate for the amount of materials and time it would take to not only satisfactorily cover your home and protect it with our high-quality paints, but also to exceed your expectations.
How do we exceed expectations? By taking each job seriously in all phases, from estimation to cleanup.
Maintaining Good Relationships With Our Painting Customers In Loveland, CO Is Paramount To Our Continued Success.
We understand that there are other painters in Loveland, but completing a commercial or residential paint job is not a service to trust to just anybody. It may be tempting to hire an amateur posing as a professional, but in the long run, that decision will more than likely leave you disappointed and further behind than you had started. At Colortrends, our owner and employees have decades of proven, successful painting experience right here in Loveland, CO. Our team works tirelessly to build good relationships with customers, suppliers, local businesses and the Loveland, CO community. Those things matter, because they affect the quality of the workmanship we are able to pass onto you. If you're ready to Book a Free Estimate for your next painting job in Loveland, CO, we invite you to do so by calling us directly at (970) 308-2135 or online via this page securely, quickly and conveniently.
A Loveland Painting Contractor Maintaining an Excellent Reputation For Quality and Service
Our reputation is our lifeblood. Whenever we take on a new client, we are welcoming them into our family. We treat each of our customers with respect and stand by our word at every step of the way. When you need your home or business re-painted, we take you step-by-step through the process, adding value and quality to your property.
Our professional painting crews go above and beyond to make sure you are happy with our work. We don't leave your home a mess when we're done, and we get our jobs done quickly and usually under-budget. We know how to work efficiently at all times and our painters are focused on giving your property the best coverage and protection paint can offer. Check out our exclusive service warranty that guarantees you 100% satisfaction for a job well done.
Committed To Maintaining A Positive Reputation
Make the call to the best Loveland painting contractor around to find out how we can wow you and exceed your expectations. Check out our reviews and see why others are raving about our service. Call (970) 308-2135 today to schedule your free estimate and learn more about our services. We are committed to answering our phones or responding quickly to your messages.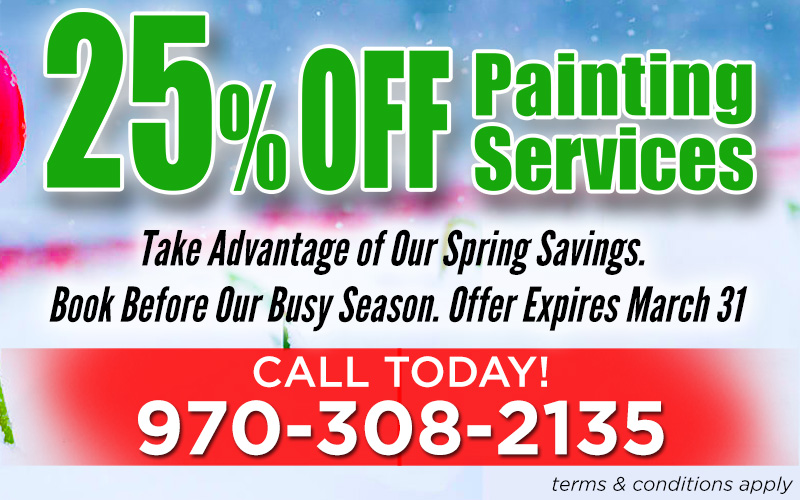 Contact Colortrends Painting by Email