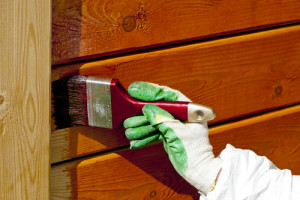 Nothing transforms a house quicker than paint. No matter if it's a bright blue, an earthy red, or a neutral taupe, a fresh coat of exterior paint can give a house an entirely new look and take it from dated to modern. But aside from just the stunning cosmetic transformation, good exterior paint is vital for your house and isn't a home improvement project that should be overlooked.
Exterior paint protects your home by giving it an extra layer against harsh weather, animals, and other things that can invade the architecture and penetrate the walls. Exterior paint can also protect your house's siding against the wind and sun to preserve the life of your exterior walls. Instead of ice and snow finding their way through the cracks of the paint and into your home's structure to create problems like mold, rotting, and dampness, exterior paint add an extra level of protection to keep out unwanted creatures and conditions.
Curb appeal is incredibly important to your home's value, especially when it is on the market. Potential sellers quickly makes judgments about how much they are willing to spend based on the house's exterior appearance. Nothing contributes to curb appeal or adds character to a house like exterior paint. Even the oldest, dingiest house can be transformed by nothing more than a fresh coat of paint. If you have limited money to spend on updating your curb appeal, exterior paint is definitely the way to get the most bang for your buck.
Paint can also give your house personality—you can choose a color that represents your personal style or that fits with the architectural style, age, or location of your home to give it a beautiful look that is unlike anything else. When done professionally, exterior paint is also a great way to highlight architectural details of a home and give it more visual interest. Even if your home is exactly the same design as your neighbors', fresh paint and trim colors can give it more dimension and make it the star of the block.
Compared to other home improvement projects, paint is relatively inexpensive and painless. It can deliver amazing results without the time, labor, and disturbance of remodeling or rebuilding part of your home. When it comes time to update your home, don't forget to start with new exterior paint.
Looking to enhance your home's curb appeal? Contact Colortrends today and tell us about your project.