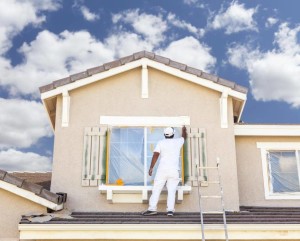 A new and fresh coat of paint has the to power to completely transform or restore curb appeal and increase the value of your home. It is also a great way to protect the investment of a home by shielding it from sun, wind, and rain. Exterior paint is the best form of protection against the elements, making your choice of quality paint very important.
A simple coat of paint can revitalize your home; but to make sure the time and investment is worthwhile, it is important to choose the best type of paint for the project at hand. Painting the exterior of a home with a can of paint meant for interiors will not provide the best results in terms of coverage or durability. Quality paint will provide your home with better protection and coverage, as well as provide you with an easier application and lasting results.
Water-Based vs. Oil-Based:
Paints used for the home fall into two general categories: water-based latex or acrylics and oil-based alkyds. The liquid of latex/acrylic paint is made up of mostly water and the liquid in alkyd paint is made up of organic solvents and petroleum distillates.
 Water-based paints are easy to work with, go on smoothly and evenly, dry quickly, and have less of an odor. Quality water-based paints are durable and will adhere well to a variety of surfaces such as wood, stucco and masonry, and siding. These paints expand and contract with the siding of your house, providing better resistance to cracking and better color retention, which prolongs the life of your paint job. Water-based paints also provide easier cleanup, requiring only soap and water.
 Oil-based paints adhere excellently and have better surface penetration, but take a long time to dry. They will dry to a smooth finish with less brush or roller marks. Alkyds, however, can oxidize and get brittle over time. Oil-based paints are the best choice when repainting exterior surfaces with heavy chalking, staining, or when repainting surfaces with previous oil-based coatings. They should never be applied to fresh masonry. Alkyds are more difficult to clean up, requiring paint thinner to clean up drips and tools, which requires the painter to be extra careful during application.
Generally, water-based paints are preferred over oil-based paints, but there are a few things to keep in mind. Water-based paint can be applied over a coat of oil-based paint, but oil-based should not be applied over a coat of water-based paint. Although, if there are multiple coats of oil paint, do not switch to water-based paint for the new coat; at this point the water-based paint can cause the previous coats of oil-based paint to pull away or crack. If you've selected a water-based latex paint, choose one with an all-acrylic binder for better resistance to weather.
Surface:
Exterior paint will be exposed to a number of external conditions, which has brought on a variety of paint types to meet the specific needs of each surface. Specialty formulas are engineered to provide the best results for individual surfaces. House or Siding paint is available in either water-based or oil-based options, and is designed to withstand severe weather. Masonry paints are mainly available in latex and are ideal for stucco, concrete, cement, or shingles. Gutter paint is available in both latex and oil and will adhere better to galvanized steel and aluminum (oil is recommended for tin gutters, however).  Roof paint is typically mildew and algae resistant and is recommended in an acrylic-latex blend to provide better results.
There are other factors to consider, such as finish and color palettes; but choosing the best type of exterior paint in regards to quality and surface will provide durability and resistance to weather, which is crucial for protecting the investment of your home.