Common Mistakes People Make When Painting
There are many common mistakes people make when painting. Whether it's because they're eager to get that beautiful new color on the walls or they just want to get the job done fast, it's common to make painting blunders that end up costing more in the long run.
Painting a room is a wonderful way to transform your space. But let's make sure you're giving it a transformation with excellence so that you can enjoy it for a long time. Before you dive into your painting project, please get familiar with the common mistakes people make when painting so that you can avoid them.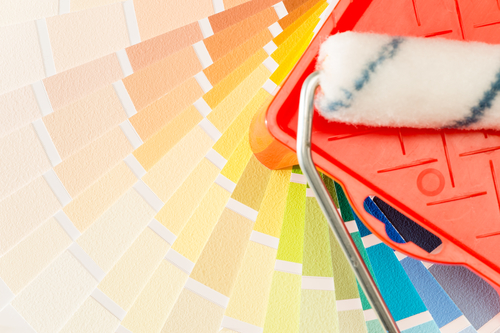 Not estimating enough time for the job.
This is easy to do, especially when you're feeling especially ambitious at the start of the project. The truth though is, it often can take longer than you expect, especially if you want to do a neat job. Keep in mind that you need to include prep work, possibly multiple coats, and clean up time in your estimate.
Neglecting to do the prep work.
This is one of the most common mistakes people make when painting. They're so ready to get the paint on the walls that they skip the necessary prep work that ensures a beautiful end result. It's so important to clean off the surface you are going to paint so that you won't be mixing dust and cobwebs into your wall's paint. Patch holes, retexture as needed, remove flaking and peeling paint, etc. You'll be glad you didn't skip this step in the long run.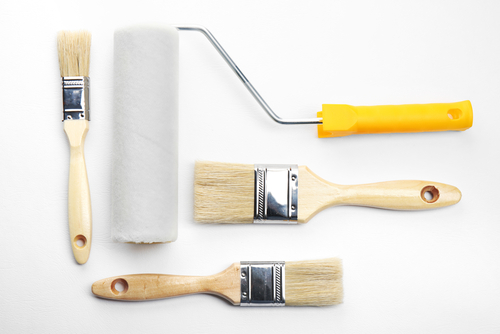 Buying the cheapest tools you can find.
It's usually true. What you pay for is what you get. If you are making the mistake of buying cheap painting tools, you'll likely end up with a cheaper quality paint job. Cheaper brushes are more likely to lose bristles while you are painting, leaving them in your paint or on your walls. They're more likely to lose their shape and make painting more challenging. It's worth going for higher-quality brushes and firmer, denser foam rollers.
Also, don't make the mistake of trying to use a masking tape instead of painting tape. Masking tape wasn't made to keep paint out. You likely won't end up with those sharp lines you were hoping for with the wrong kind of tape!
Not testing paint colors in the room you're painting.
I've made this type of mistake. It's easy to look at a paint swatch in the hardware store and think, "This is perfect for the living room!" And then, right then and there, you buy that paint. When you get home and start rolling it onto the wall, you realize it doesn't seem like the same color you purchased!
No, the hardware store isn't trying to sell you the wrong color. The fact is, paint colors are going to look different depending on the room they're in. This will be determined mostly by the lighting in a room. Always take the paint swatches home to view them in the natural and normal lighting of the room you plan to paint. If possible, get a paint sample and try it on a small section of the wall before finally actually choosing the paint color.
Skipping the tape.
This is such an important step in the prep work. Taping ensures straight lines and helps prevent accidentally painting surfaces that you are not intending to paint (trim, door knobs, etc.). For some areas, you may want to remove fixtures and hardware instead of trying to tape around them perfectly.
Skipping out on primer.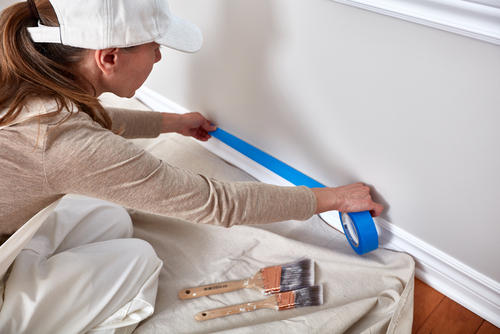 Primer is so important, especially if you don't want to have to do this painting job again anytime soon! It helps your paint better adhere to the surface you're painting. Primer improves your paint durability and adds more protection to your wall. Also, primer helps cover darker paint and stains so that they don't shine through your new coat of paint. Use a primer first or make sure the paint you get has primer in it!
Painting over glossy paint without sanding.
When you paint over a glossy paint without sanding it first, it's going to be hard for your new paint to stick! It's likely going to chip and peel sooner if you don't do the necessary prep work.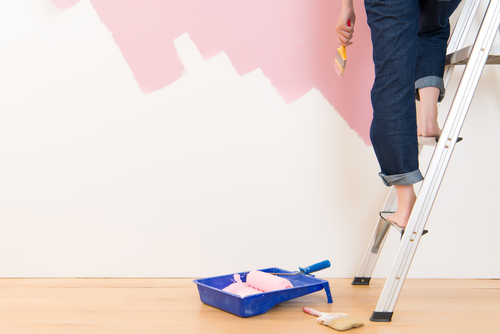 Painting in poor lighting.
Having proper lighting to paint is going to play a huge part into the end result. It's easier to miss spots or paint a thinner coat in areas when you can't clearly see the quality of your job. It's best to paint during the time of day when the room gets the most natural light.
Painting large spaces first, instead of edges.
Painting edges first will help ensure that you don't hit the floor or ceiling with your roller. Get the tedious part done first to ensure a job well done in the end. Also, when you are ready to paint the large spaces, start at the top and work your way down. That way, you can catch any paint that is running down.
Not doing touchups.
I know, by the time a painting project seems done, we're ready to pack away the supplies quickly and more on. Remember though to go back through the room and check for missed spots, places that have been bumped, and areas that have too thin a coat. Do a thorough job of touchups for a beautiful final result.
Not keeping touch-up paint.
Your wall is not guaranteed to stay without a chip in the paint. Life happens. Buy enough paint so that you will have some left over for touch-ups later. Don't expect to have the gift of perfect color matching. Do yourself a favor and keep the right paint stored somewhere so that you can ensure later touch-ups won't result in patches of a different shade.
Not cleaning your tools appropriately.
Here we are, at the final one of the common mistakes people make when painting. And it's understandable: you want to be done! However, not properly caring for those quality tools you purchased is going to cost you money for the next paint job. Properly wash brushes, rollers, and trays and store them so that you won't have to purchase everything new the next time.
Have a painting job you need to get done in your home but don't have the time or motivation to do it yourself? Contact us to learn how we can help.