Fort Collins Painting Services
Colortrends Painting in Ft Collins, CO delivers more than high-quality interior painting and exterior painting; we provide you with a look that you love in your home. With attention paid to every detail from beginning to end, you can trust that your home or business will be handled with the utmost precision and care when the painting is left in our hands.  Whether you're interested in having your home painted, a new look for your office, or making your cabinetry look like new, our professional painting services might just be what you're looking for. Here are just a few reasons why people are choosing us as their preferred painting company:
Fort Collins Painting Services
At Colortrends Painting, we provide a variety of painting services to help restore the beauty in your home. In addition to interior and exterior painting in Fort Collins and Loveland, CO, we also provide wood refinishing for cabinets and furniture, painting wall murals, wallpaper removal, pressure washing decks and siding, and restoration of historic homes or buildings through the use of high quality products and our expertise in painting. Whether your project is big or small, we are here to get your project done! Some services we offer are:
Refinishing  your old dry wood. Refinishing wood furniture and  cabinetry is a terrific way to re-instate the beauty of your woodwork and it is much less expensive than replacing it.
We offer Pressure Washing of decks and siding  to enhance the the beauty of your home and keep your wood decks from deteriorating from the outside elements here in Colorado.
Professional Painting for Historic homes and buildings in the  Fort Collins, Loveland and Windsor, Colorado area
Experienced Fort Collins Painting Craftsmanship
When you choose Colortrends Painting in Fort Collins to handle your residential or commercial painting needs, you are hiring the best painting contractor in Ft Collins area. Steve Binger, the owner and founder of Colortrends Painting, has extensive experience in both interior and exterior residential homes and commercial businesses. When it comes to painting contractors in the Colorado front range, Steve simply outperforms the competition. Steve has an eye for detail and can provide his opinion on what would look best or what would brighten up an area for the most aesthetic appeal.
Quality Fort Collins Painting Services
We understand that, when you make the investment of re-painting your home or office, you want quality. We get that. At Colortrends, we use only the highest quality products to ensure that you not only love the look, but that it's durable. Prior to starting any project, we take the time to talk to you about how each area is used and recommend specific color pallets to ensure that your new paint brings your aesthetic vision to life.   Our process is one of quality, integrity, and satisfaction. We are here to make sure that you love the job we have completed. When you enlist our painting services, you will be well on your way to transforming your home or business into a piece of art – one that you can love for many years to come.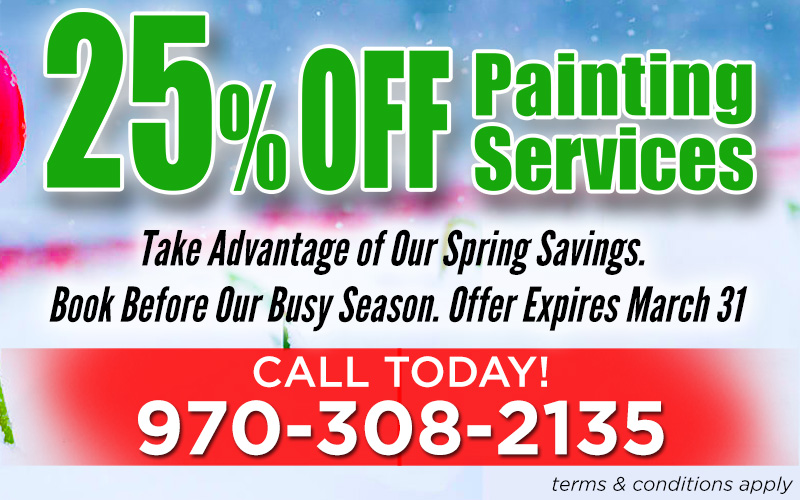 Why Choose Us?
Here are just a few reasons to trust Colortrends:
Prompt Project Completion
Flexible Hours
Quality Paints Used
Faux Finishing
Textures.
Free Estimates
Insured And Bonded
$200 Off Any Job Over $2,500
$500 Off Any Job Over $4,500