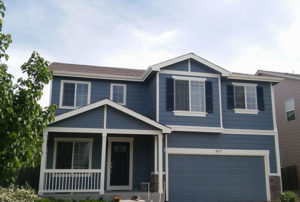 A new and fresh coat of paint has the to power to completely transform the look and style of a home while protecting it from harsh external elements. Covering faded exterior paint with a fresh coat of high-quality paint not only enhances the aesthetic appeal of a home, it also provides a valuable line of defense against weather, insects, heat, and other damage.  If you are trying to decide whether or not to make the investment, take some time to examine the exterior of your house and check for these five signs that your home needs to be painted.
Cracking and Peeling:
Exterior paint that is cracking or peeling is an obvious sign that your home is in need of a new coat of paint. Exposed, unprotected areas of your home's siding along with areas surrounding door or window frames are excellent places to check for cracking and peeling. Chipped and peeling exterior paint makes your home susceptible to the effects of inclement weather. Moisture from snow, ice, frost, rain or high humidity can get trapped in paint cracks and damage the wood. Damaged wood can come in the form of cracking, flaking, rotting, warping, and mildew. Not only that, but damaged wood is an inviting place for termites.
Dry Rot:
A benefit of a quality exterior coat of paint is that it prevents moisture from damaging the siding of your home. When exposed to moisture for extended periods of time, wood will rot. Dry rot occurs as the result of deteriorating wood from fungus growth due to abundant moisture. Obvious signs of dry rot include boards that appear to be shrinking, wood that is soft when pressure is applied, wood that is discolored, and wood that is brittle or crumbling.
Discoloration or Fading:
Over time, paint will experience discoloration or lightening in color. Fading is most noticeable on areas of your home that are exposed to intense sunlight for long periods of time. Be sure to check unprotected sides of your home and look for differences in paint color. While fading and discoloration are normal outcomes from years of exposure, it can also lead to cracking or peeling and other damaging effects. Covering faded and discolored paint will improve the look of your home while preventing further damage.
Chalking:
Chalking occurs as the paint film is degraded by sunshine and moisture. This process results in a loose white chalky powder that appears on the surface and fades the color of the paint. Because chalking is typically caused by normal wear and tear, it is often overlooked. However, heavy chalking can be a blatant sign that your home is in need of a new coat of paint or that you current paint is of low quality.
Aesthetic Appeal:
Décor styles can change over time but with a fresh coat of paint, the exterior of your home can easily evolve along with your taste. Covering faded exterior paint will bring a home back to life, enhancing the curb appeal of your home. It can also change the exterior style of your home, giving it new life. Painting the exterior of a house can accentuate its unique beauty and update characteristics of your home that might be out of date. At the same time, a good exterior painting project is an effective way to update the aesthetic appeal of your home and change features to better fit your personal style.